Rent boats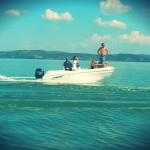 At the Tourist Port of Castiglione del Lago Trasimeno you can
rent
boats
without a license.   A whole day or for long periods.
Each year new boats, new Mercury engines of 40 HP (maximum Hp allowed ) Rent without boat license!
Feel free to ask us any questions you may have. 
We recommend to book in advance: info@motonauticacarli.it
We provide personalized boat rental quotes and with advance booking you can be sure of the availability of the boat for the desired period at a really convenient price.
We accept  VISA , MASTERCARD , MAESTRO,  JCB.
Given the short time in which you use a boat, the rental is definitely a convenient formula!
The boats available are all new or very recent production. Rental prices are inclusive of R.C. and daily cleaning;
they are delivered in water ready for navigation with refueling;
all have mandatory on-board equipment, mooring lines, fenders, anchor, sun canopy, bluetooth stereo system, fire extinguisher;
The use of the boat and the navigation rules are illustrated before leaving;
On board, children are counted as adults, it is a good practice that they always wear the appropriate safety jackets (available free of charge upon request when booking);
A large private parking is available to customers.
To guarantee a better service, please arrive at the rental point at least 15 minutes before the time of booking.
Welcome to our office
@motonauticacarli 43°07'46.6″N 12°02'48.1″E
Trasimeno Lake landscapes will fascinate you. Remind to bring your music, water and sunscreen. Make the most of your day on the lake!
Hope to see you soon on our boats !
See our Profile on tripadvisor !
Testimonials
The best day of our vacation

Great experience on Lake Trasimeno with the rental of a boat from Motonautica Carli! Nice boat, very friendly people, good explanation of the conditions, the boat, the stops at the islands and the best place to swim. Good espresso when you return the boat. BIG thank you, 5 star Carli Team service! A thousand gracia for this beautiful day
Perfect experience for the first boat

 We spent an excellent day on the lake with our family. Very well received by members of this family owned company. Excellent first introduction and excellent instructions and directions. We highly recommend Carli for boat rental in Umbria.
Aanrader! A consumer! Having to do!

 Incredible service, extremely warm welcome. Perfect way to discover the lake and its islands. No problem if you've never done it before, they will explain everything calmly and clearly. Unforgettable experience at fair prices!
No, because the boats are motorized with engines not exceeding 40 hp.
It is necessary to present an identity card or passport.
The following additional charges may be applied:
– Security deposit / deductible *: In cash or by credit card before the start of the lease.

– The price of fuel is excluded, you can return the boat with a full tank or pay for the fuel consumed.

– Optional – only Kasko insurance. Warning! For the submerged parts: propellers and stern groups are NOT covered by body insurance (Kasko); in the event of damage, repair or replacement is entirely the responsibility of the Driver.
Yes of course, there are no contraindications for any age. Parents clearly need to have due attention to them.
Dogs are allowed on board.